New illustration!
So I did a little illustration inspired by some badass biker girl gangs like @babesrideout in Joshua tree!
Day One
After a morning driving around the last places we wanted to see in Los Angeles, we finally arrived in Joshua Tree. We drove directly to the house to drop our stuff, but the desert was calling us! We were staying only 5 minutes from the North entrance of the park, so we grabbed our cameras and went to explore the area. Our minds were blown away by the beauty of the place. The rocks, trees, cacti, sand and mountains transported us to a different universe, a different planet. Joshua Tree was definitely one of the most beautiful places I have ever been.
We went on a little hike before sunset through the rocks and cold air. After the sun had fallen, we went to the little town down the road and grabbed a gigantic pizza from Pie for the People and sipped on some nice crafted beer for Blake and non-alcoholic ones for me. Bliss.
The house
This place was our second Airbnb rental of the trip, and it was our perfect little dream home! A little detached bungalow house with concrete floors, Eco-friendliness and lovely vintage furniture. It was a truly inspiring and cosy place. Such a shame we only stayed one night.
Day Two
We woke up just before sunset, still trying to shake off the jet-lag, and decided we'd go on another hike in the park. The air was cold and crisp, and the sun was awaking when we arrived. It was all so magical!
A little detour to Pioneertown
After our morning hike in Joshua Tree, we came home, had breakfast and lazied around as long as we could until we had to check out. We then drove to the little souvenir shop down the road, bought some super tacky treasures and then headed off to Pioneertown. This village used to be a film set in the 50's and is now the home of Pappy and Harriets, a super quirky wooden shack where you can eat some hearty food while listening to some pretty good bands (every good band has played there). By the way, Babes in Toyland are playing on the 20th Feb. Just saying...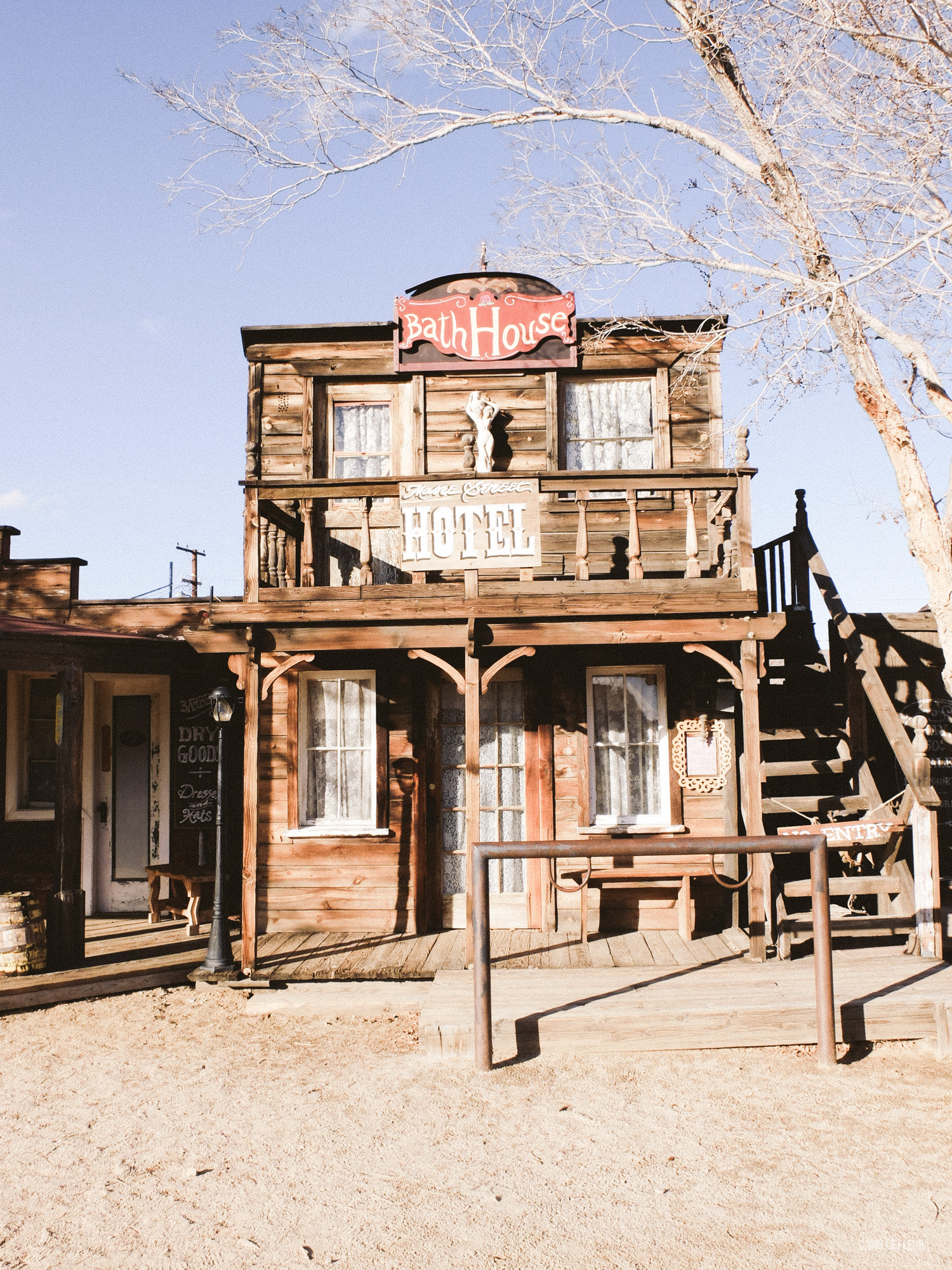 Hey, have you been to Joshua Tree? What was your favourite trail?

Next on the blog: Our way to San Francisco!
Missed our last post about the city of the Angels? Check it here!
Photos by Camille Fleur and GKOKO. All rights reserved.